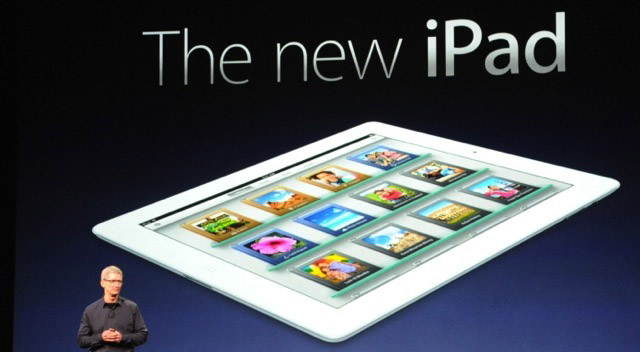 Well, after spending a day with the New iPad, I am finding some pro's and con's to Apples latest offering. The step from the original iPad to the iPad 2 was huge in my mind, but the step from the iPad 2 to the "New iPad" (What's up with that name!) is much less...especially for education. There are some nice new features, and depending on your needs may be critical but I don't see it for educational needs.
The better rear camera is great, and for a consumer will be a welcome update, but for education do we really need a better camera with larger files? Is HD video necessary for class projects given the extra problems associated with larger files? My conclusion is no.
The display is nice, but so was the iPad 2's display. I can see a few differences, but to be honest... they are slight for what I am doing with my iPad. I even have a few apps updated for the new Retina display, and still no wow factor for me. I really do not see the need for our classroom uses at the current time. Yes, it will stream video at 1080p, but most of our videos we use in school are not high quality and very few will have the new Apple TV to accommodate the 1080p let alone a big flat screen TV with 1080p.
The faster processor may be needed in a few years, but right now each app I used side-by-side with my "old" iPad2" showed no speed difference. By the time any of us need the speed, there will be another new iPad on the market. (Not to mention the extra heat given off by this increase in processor speed.)
The hot spot sharing and 4G LTE could be a killer feature for the consumer or mobile warrior, but for most of our educational needs we are just ordering wifi only models.
It was a welcome surprise that Apple kept it's same pricing structure for the New iPad including it's similar battery life. (That's especially impressive with the 4G LTE models.)
What do I think is the best thing about the New iPad for education? It's that the price on the iPad 2 16 gig units were rolled back $100 to $399. That's a bargain for what may be the best iPad for schools at the moment. I do wish they would still produce the 32 gig iPad 2 units as well, but it looks like that is not going to be the case. Don't get me wrong, the New iPad is now the best tablet on the market and continues to push the boundaries, but I think the best news was that the iPad 2 just got more affordable for schools and kids.
Your thoughts...........????